Buy Box Experts Podcast
The Younique Foundation is honored to have been featured on a recent episode of the Buy Box Experts podcast. The podcast hosts, who usually highlight ecommerce companies' tools and platforms, deviated from their typical programming to discuss the epidemic of child sexual abuse with Chris Yadon, The Younique Foundation's executive director.
After participating in a service project for the Foundation, during which Buy Box Experts staff tied blankets for participants at The Haven Retreat, podcast host Eric Stopper felt compelled to use his platform to spread awareness for The Younique Foundation and our sister brand, Defend Innocence.
"I had no idea how bad these kinds of issues were," Stopper recalled on the podcast. "But rather than trying to explain how bad it is, I decided to reach out to somebody at the Foundation to come on the show."
Yadon explained to podcast listeners that even though 1 in 5 children is sexually abused, the epidemic of child sexual abuse persists because most people aren't willing to talk about it. And even with sexual assault and abuse becoming a larger part of the national conversation—thanks in large part to the #MeToo movement—society still hasn't hit a tipping point that moves people to action.
"You can't go on a major news channel or even a local news channel and do more than one scroll through the newsfeed and not find a story about sexual abuse," Yadon said. "That's how much we're talking about it. But people still are saying, 'well, not in my backyard.'"
Yadon went on to say that there are two crucial arenas in which parents and advocates can begin to change the conversation around child sexual abuse: in their homes and in their communities.
He urged parents to educate themselves on how to protect their children through conversations about things like boundaries, consent, and dating safety.
"It's all about educating myself as a parent," Yadon explained. "Just a little bit of education can go a long way in reducing the likelihood that your child will either be abused or will be abusing another child."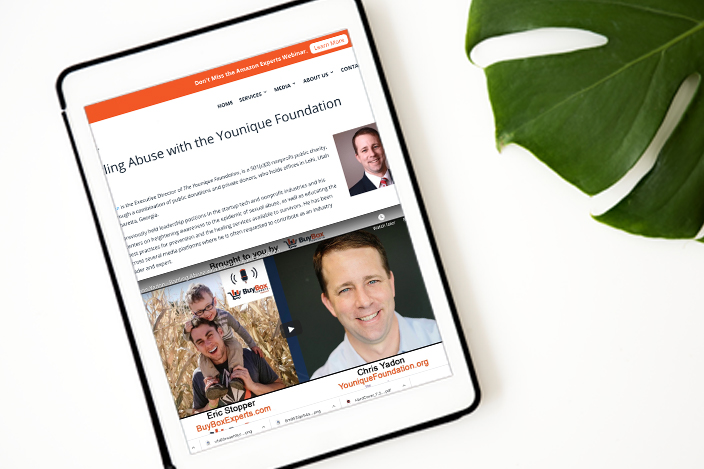 Speaking to resources Defend Innocence provides to parents, he explained that parents should open a dialogues with their children at a young age that can grow and evolve as their children mature.
"It's a progressive discussion around sexual health from that young age," Yadon said.
He went on to explain various risk factors that increase the chances that a child will be abused, as well as how parents can address some of those risk factors by giving children a voice and building their sense of self-worth.
When Stopper asked how people can move the conversation about child sexual abuse forward in the broader community, Yadon explained that there are three things anybody can do: raise awareness, volunteer, and donate.
"We need people's megaphone," Yadon said. "And Eric, you're a perfect example of this. Right now you have a megaphone, you're using it, you're giving us a chance to talk about the issue with your megaphone. So kudos to you. Thank you."
Yadon went on to explain that all non-profits need volunteers and donors in order to accomplish their missions, and that even the smallest contributions can make big impacts.
When it comes to donating, Yadon urged listeners: "If you can only give $1 a month, give $1 a month, if you can give more, give more, but just do what you can do. Just do what you can do. Whatever it is for you, every dollar adds up and makes a difference."
The Younique Foundation staff is profoundly grateful for Buy Box Experts' volunteer efforts for The Younique Foundation, as well as Eric Stopper's eagerness to feature the Foundation on an episode of the company's podcast. To listen to the episode, click here.
To learn more about The Younique Foundation's healing resources services, click here.
To learn more about Defend Innocence's educational preventative resources, click here.