Forge Jewelry
FORGE Jewelry Works of Provo Utah is an official sponsor of The Younique Foundation who we are excited to highlight. FORGE custom crafts each pendant necklace gifted to 'Haven' retreat survivors. Survivors are presented the gift at the end of each 4-day retreat program. Each necklace is given as a symbol of their journey, progress, and strength. FORGE donates profits from the jewelry back to the foundation. We could not be more grateful for FORGE's partnership, support, and genuine understanding of The Younique Foundation's mission.
Owners Rischelle and Shawn Mikkelson started their business on a pillar of giving back to their community and said:
'Caring for our community, our employees, and every guest we cross paths with is important to us. Giving was always part of the formula and business plan from day one. Our core belief is that we owe every ounce of our success to the communities in which we live and work. At the most basic level, 'forge" means forming and creating with fire and metal. We feel that it also expresses forging relationships. The essence of our business is building bridges of love and fostering relationships. Partnering with The Younique Foundation is our honor and a perfect fit for us!'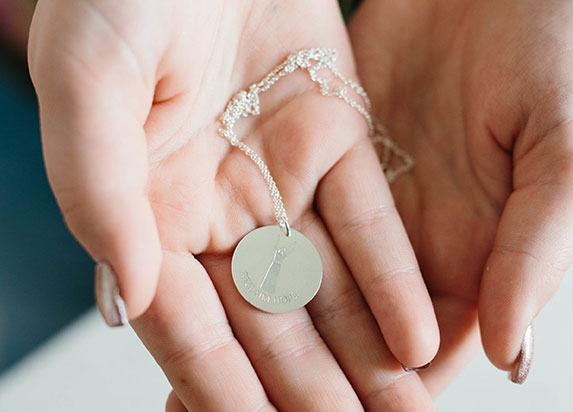 Creating a piece of jewelry to be gifted for our survivors was no small feat. It was a thoughtful and exciting challenge. Longevity and quality were key. FORGE says they understood survivors were going to use their pendants as a symbol of strength and rely on it over time. And in order to do so, they needed it to last. The pendant serves as a constant reminder to the survivors of their ability to heal and reclaim hope. Material, shape, strength, and finish were all factored in. The result was a beautiful, timeless piece- worth more than a price tag.
Giving back to their community translate into good business for FORGE. According to Rischelle, employees know they have an important role in helping survivors and it means so much to them. Each pendant is hand polished and assembled by employees, it becomes purpose filled for them.
Customers also choose FORGE because they give back to the community. FORGE is rolling out a new 'giving' referral program. Guests will be given the option of donating their referral gift to The Younique Foundation, in lieu of a FORGE gift card. Each time guests choose this option, $25 will be donated directly to the Younique Foundation.
In addition to giving to The Younique Foundation, FORGE is involved in community education programs, donates to many charitable causes, and is a proud partner of Tabitha's Way. To learn more about Forge visit: www.forgejewelryworks.com.