Gabb Wireless and Defend Innocence
August 10, 2020 — We are excited to announce that Gabb Wireless has partnered with Defend Innocence, a brand of The Younique Foundation, to empower parents to protect their kids from the dangers of unmonitored technology.
"Proactive parents need strategies to protect their kids online and safe technology to make it happen," the organizations recently announced."Gabb Wireless and Defend Innocence are joining together to make it a reality."
Gabb, a Utah-based start-up, created a mobile phone that promotes online safety for kids and teens—the device looks like a smartphone, but only has talk, text, and other basic capabilities. The phone also has no access to the internet, which makes it a great phone for youth who need to stay connected to their families without the distractions and dangers the internet can pose.
"Kids are getting, typically through a smartphone device, access to adult content," said Stephen Dalby, founder and CEO of Gabb Wireless. "I want to make sure that all of the Gabb Wireless customers are aware [of that problem]."
Dalby was introduced to The Younique Foundation and Defend Innocence at an event for the foundation in 2019. Instantly he felt a "natural connection" between Gabb and the mission of Defend Innocence to protect children from child sexual abuse through educating parents and caregivers.
"I thought this would be a great opportunity for us both," Dalby said. "It's a way for our customers to learn and be educated."
Gabb and Defend Innocence kicked off the partnership on August 1st, 2020, when Dalby presented Shelaine Maxfield, president and board chair of The Younique Foundation, with a $10,000 donation. Gabb has also committed to donate $10 to Defend Innocence for every mobile phone they sell through their Advocate program.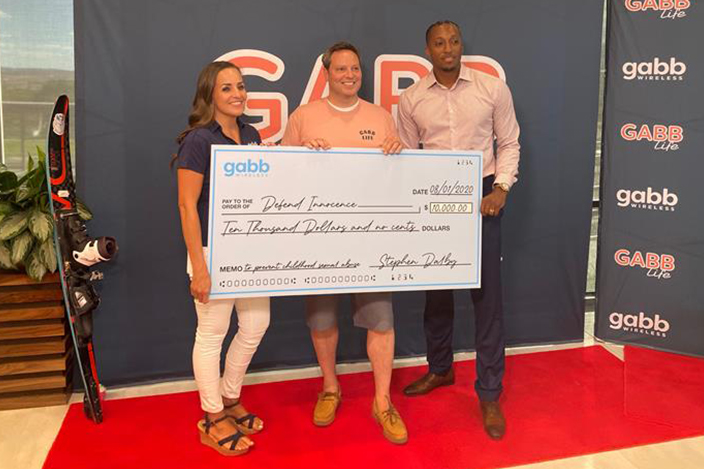 "Gabb Wireless' first-phone product philosophy directly aligns with Defend Innocence's perspective on how we should ease our kids into technology use," Maxfield said. "As an organization that is committed to the prevention of child sexual abuse, we're proud to be in a partnership with Gabb Wireless to keep kids safe."
Both Gabb and Defend Innocence agree that technology is an important tool for kids and teens to learn how to use and access properly. Additionally, both organizations understand that unmonitored access to technology, especially at an early age, can increase a child's risk of:
Child sexual abuse, including exposure to sexually explicit material.

Cyberbullying.

Screen addiction.
Gabb and Defend Innocence believe that proactive parents can empower their children to stay safe online with the right conversations, tools, and technology.
"One proactive parent in a home and in a neighborhood can change everything by being bold, by being willing to speak up, by being educated, and by being connected to resources and tools," Maxfield said. "They take away the negativity of technology and they fill it with positivity. To think that we have the opportunity to do something about that, why wouldn't everybody jump right in with us?"
The Younique Foundation and Defend Innocence are deeply grateful to Stephen Dalby and Gabb Wireless for their support. We are excited and honored to continue this partnership.
To learn more about the partnership between Gabb Wireless and Defend Innocence, click here.
To learn more about Gabb's products, click here.
To get involved in Gabb's Advocate program, click here.