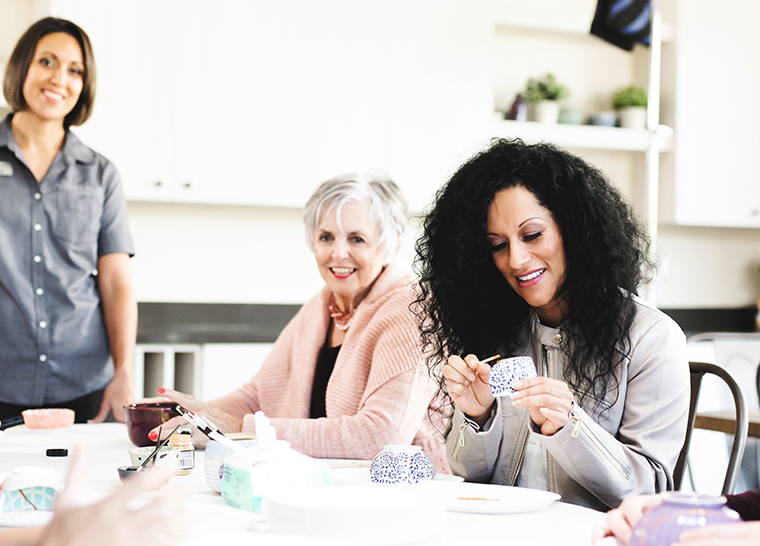 Kintsugi Fundraiser to Benefit Child Sexual Abuse Survivors
Kintsugi Fundraiser to Benefit Child Sexual Abuse Survivors
Business owner Marcella Hill creates joy every day by repurposing old sweaters and giving them life by making them into new items. Her Utah-based business, Love Woolies, takes used, donated sweaters and turn them into scrunchies, socks, and mittens.
"We take sweaters that have been stained, torn, and snagged, and bring a new life to them by washing them, taking inventory of the damage, and cutting it out," Hill said, "We get creative in what it can become and we make it into something well beyond its original purpose as a sweater." The sweaters are made into scrunchies, mittens, cabin socks, beanies, bows, pillows, hats, and scarves.
When Hill learned about The Younique Foundation and its mission to help adult survivors of child sexual abuse, she knew she wanted to help. Hill heard about a four-day educational experience that educates survivors about the traumatic impacts of abuse, that introduces healing tools they can continue to use when they return home.
One activity survivors take part in at the retreat is kintsugi — the Japanese art of repairing broken pottery with gold and turning it into a piece of art — a metaphor for survivors to help heal the feeling of being broken as a result of their childhood trauma. Hill had an instant connection with kintsugi and it reminded her so much of the of the vision of her own business that creates joy by giving new life to something that is repurposed.
Hill is holding a kintsugi class on June 17 at 7 p.m. at SYFTE Co. Event Center in Lindon, 1396 W. 200 South, Suite 1F, as a fundraiser for The Younique Foundation. Participants will take a piece of broken pottery and turn it into a piece of art while hearing stories of healing from trauma and abuse.
The cost of the class is $49 and proceeds will benefit adult survivors of child sexual abuse. For more information visit and registration information visit eventbright.com here.