Life's Cracks are Part of the Overall Beauty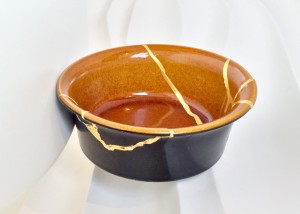 There is a Japanese philosophy called "Kintsugi" which consists of mending pottery. A lacquer resin is mixed with powdered gold and used as a type of glue to attach broken pieces of pottery back to a whole form.
As a philosophy, it speaks of breakage and repair becoming a beautiful part of the history of an object, rather than something to disguise or pretend never happened.
To some in Japanese culture it is believed that this type of pottery is even more beautiful than the original piece.
As we honestly examine our own lives we will notice we all have broken places or chipped pieces, which can often be the results of the actions of others through no fault of our own. When it comes to sexual abuse, this is true. However, all is not lost.
As we consider the wise philosophy of Kintsugi as an analogy to our lives, there are three important lessons that can be learned:
Worth Does Not Diminish
Just like the broken pottery that has great worth, you too have great worth. No matter what was done to you, you are valuable. You are beautiful inside and out.
Your life is like Kintsugi. Your cracked pieces are part of the person you have become. However, they do not need to dominate your life. With help from professionals and constant practice of the five key strategies (found under our online resources), you can overcome and live the life you always dreamed of.
Broken Pieces can be Mended
Just as the striking gold glue mends the cracks and broken pieces of the pottery, the five key strategies are the glue that mends all of your pieces.
These five key strategies include the following:
Awareness: Becoming more fully grounded in the reality that the only time something can actually happen is now, in the present moment. Also, learning how to develop a healthy relationship with time.
Acknowledge: Accepting the truth no matter what. Meaning one has accepted the fact that recovering from sexual abuse trauma is an ongoing process and not a one-time event.
Power through Surrender: Using the concept of surrender to help understand when and what to fight which empowers us to set the course for a better life.
Mindfulness: The ability to focus on empowering thoughts and feelings while choosing to co-exist with non-productive thoughts and feelings.
Faith: The act of moving forward on your belief that wholeness and healing is possible.
These strategies, mixed with help from a professional, will allow you to reclaim hope and mend all your broken pieces. It will take time, but recovery is never impossible. You were meant to have an amazing life full of happiness and joy. You can overcome your trauma.
Beauty can rise from the breakage
Remember, in many cases the Kintsugi dishes were valued higher than their original form. Similarly, the experiences you go through create your entire being. You can rise from the breakage becoming even more beautiful than before. You are a survivor, not a victim.
We do not celebrate the fact that you were abused, but we absolutely celebrate the wonderful person you have become and will become as you continue to create your real life version of Kintsugi.