Why You Should Make Emotional Health a Priority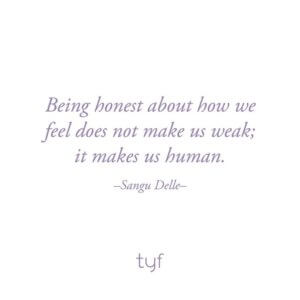 What struggles have you faced when it comes to making emotional health a priority? In his powerful TED talk about taking care of his mental health, Sangu Delle talks about a time in his life when he struggled with depression and anxiety. He had just moved to the United States from Ghana to attend boarding school, and he had lost seven loved ones in a single month. Imagine the emotions you might feel in a similar situation. As he struggled, he says, "I felt a profound sense of shame. I felt the weight of stigma." He comments that others would say, "People have real problems, Sangu. Get over yourself!" Delle says that too often people with mental health issues "suffer in solitude, silenced by stigma."
Sexual Abuse and Mental Health
Many sexual abuse survivors face long-term battles with depression and anxiety, and they often don't get the help they need because they feel ashamed. They feel like they can't go to others for support. If you've experienced these feelings, you're not alone. According to the Huffington Post, "Nearly one in five American adults will experience a mental health disorder in a given year. Yet only 25 percent of people with a psychological condition feel that others are understanding or compassionate about their illness."
Make Mental Health a Priority
As you work to heal, make your mental health a priority. Too often we don't give our minds and emotions the attention that they deserve. Psychologist Guy Winch points out that if there is something wrong with our physical bodies, we're quick to get help, but we don't do the same thing for our minds. Winch says that the response to mental health concerns often sounds something like this: "Oh, you're feeling depressed? Just shake it off; it's all in your head." But he comments, "Can you imagine saying that to somebody with a broken leg: 'Oh, just walk it off; it's all in your leg.'" Our minds deserve the same compassion and attention that our bodies do.
Experiencing emotional turmoil in your life doesn't mean you're weak, flawed, and can't heal; it means you're human. Don't let others make you feel like there's something wrong with you. Be generous in the way you think about yourself, and be as concerned about your emotional well-being as you would be about your physical health.