Rustico
May 21, 2020 LINDON, UTAH— The Younique Foundation is honored to partner with Rustico, a Utah-based leather artisan whose journals, bags, and accessories are "designed to inspire you to create, step outside, and live intentionally."
Rustico's founder, Isaac Childs, began making his own journals in 1998 when his store-bought journals kept falling apart. Soon, he started selling his handmade journals, and for the last two decades Rustico's handmade leather items have inspired thousands of people to live intentionally and leave their mark.
The Younique Foundation and Rustico connected over a common belief: writing can be a healing activity that allows you to process your emotions and experiences, leading to impressive health and mood benefits. Both organizations believe that writing on a regular basis can help individuals reduce stress, better manage anxiety, and cope with depression.
Expressive writing is one of many healing tools promoted within The Younique Foundation's survivor resources. With the help of a journal like those Rustico creates, survivors can ensure their words will last and be kept safe for years to come.
"The Younique Foundation is special for me because of the purpose that they have of helping women heal," Childs said. "[It's] in line with, if not any different than, what we are trying to do at Rustico, which is essentially to inspire others to heal, to live intentionally."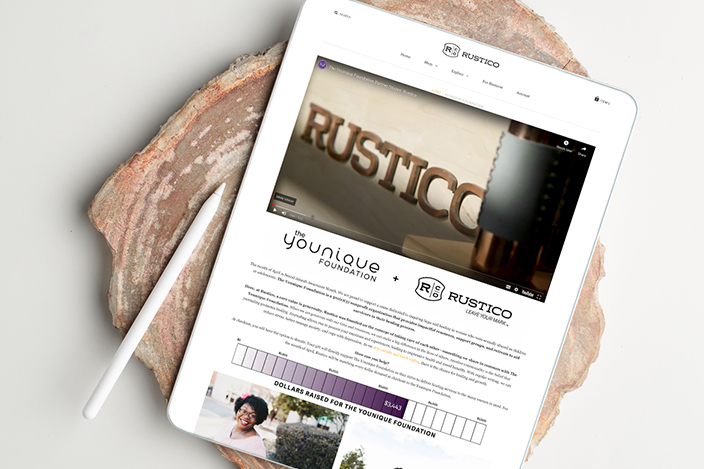 In 2020 alone, Rustico has generated close to $20,000 in donations for The Younique Foundation (TYF). In February, Rustico generously donated $10,000 worth of journals in support of TYF's Evening of Gratitude (an event where they thank their donors). In March, Rustico launched a donation program on their website, allowing visitors to the site to donate to TYF at checkout. And in April, Rustico launched a matching donation campaign in support of TYF and Sexual Assault Awareness Month.
But April brought new challenges for Rustico. As the COVID-19 crisis progressed and began to threaten the business, Childs and his team pivoted most of their normal production to making masks. Even amid unprecedented uncertainty, Rustico generated $5,000 in donations for The Younique Foundation at checkout, which the company generously matched.
"Here, at Rustico, a core value is generosity," the company's website read in April. "Rustico was founded on the concept of taking care of each other—something we share in common with The Younique Foundation. When we are generous with our time and resources, we can make a big difference in the lives of others."
Rustico also recently recognized The Younique Foundation as one of their Mark Makers. Rustico's Mark Maker program highlights individuals and organizations who make a large positive impact on the world. The Younique Foundation is honored to be counted as a Mark Maker, and are eager to continue making a positive impact in the world.
But more importantly, The Younique Foundation is humbled by and grateful for the generous support received from Rustico. We cannot do the work we do alone—partners like Rustico help us reach and serve more survivors in the most meaningful ways. TYF is incredibly thankful to Isaac & Becky Childs and the entire Rustico organization for helping further their mission.
To learn more about Rustico and The Younique Foundation's partnership, click here.
To learn more about Rustico's mission and products, click here.