St. George Reclaim Hope Gala
December 15, 2019 — The Younique Foundation welcomed Washington County residents to enjoy a beautiful evening at its Reclaim Hope Gala in November. Usually held outside Salt Lake City, hosting the gala fundraiser in southern Utah was an exciting first for the organization. A new city brought new friends and opportunities to raise awareness for an important cause. Donations from the gala went toward healing services for survivors of child sexual abuse, as well as community resources to help end child sexual abuse. It was an exciting night for charity and residents of Southern Utah.
Evening festivities included dinner, live entertainment by musical guest GENTRI, an exclusive video of The Haven Retreat—the nonprofit's cornerstone service—and keynote presentations by founders Shelaine and Derek Maxfield. Jan Broberg, the subject of Netflix's Abducted in Plain Sight, performed duties as the Master of Ceremony for the event.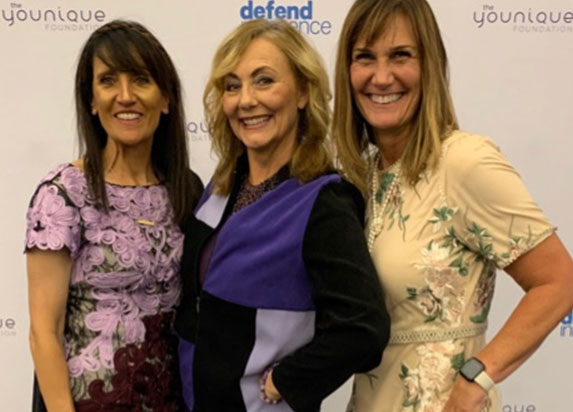 An estimated 1 in 4 women are survivors of child sexual abuse. The Younique Foundation's Haven Retreat provides much needed resources to these adult women survivors. The four-day retreat is filled with healing activities that provide participants with tools to help on their healing journey. Psychoeducation, meditation, creative projects, and understanding trauma and the body are part of the program. Any woman 18 or older can apply to attend the retreat through the website by visiting youniquefoundation.org.
Our organization depends greatly on donations, as a public charity. Guests' generous donations are the reason women from all over the world who are survivors of child sexual abuse can attend The Haven Retreat at no cost to them. During the gala weekend, donations were DOUBLE MATCHED by a private donor. The Younique Foundation is thankful to all who attended and supported a great cause. For more information on how you can attend our gala, please contact us at: questions@younique.org.